Shredded Chicken Enchilada Casserole
Mexican meets Italian in this lasagna-like casserole. Zero Carb tortillas replace noodles and traditional marinara sauce is swapped out for an enchilada sauce, made super quick by using the crock-pot. Feed a crowd this cheesy delight filled with TASTY ingredients. A dollop of sour cream will add the cool zing to each of the 12 hearty servings. Serve this alone or get a bag of angel hair coleslaw and dress it with some lime juice and cilantro for a crunchy side salad, or some Cilantro Lime Rice.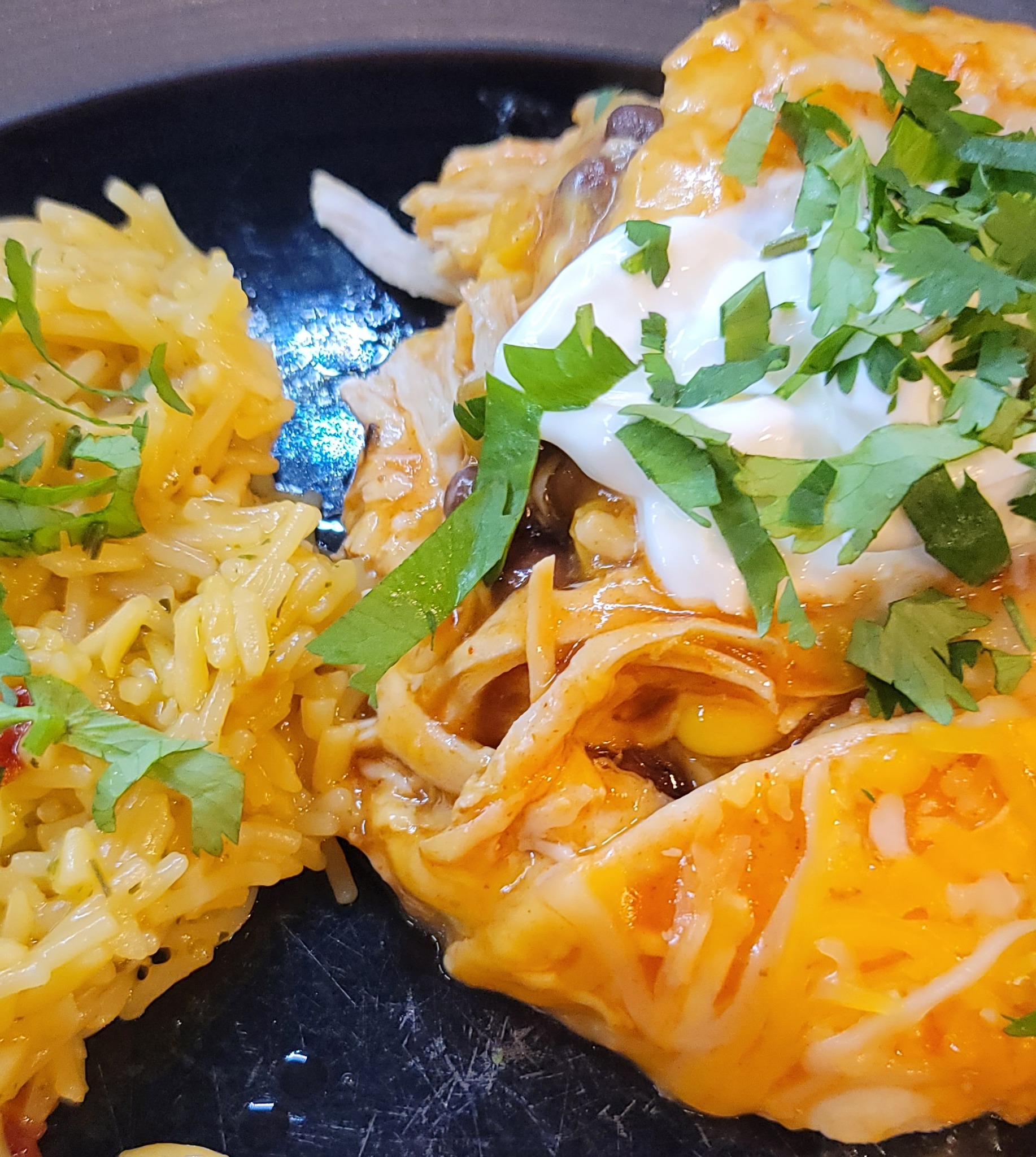 Ingredients
Cooking spray -2 spray(s)
Table salt – 1 1⁄2 tsp, divided
Cooked boneless skinless chicken breast(s)
12 oz, shredded with two forks
Reduced-fat Mexican shredded cheese – 7 oz
Mission Zero Net Carbs Original Tortillas -10 tortilla(s)
Canned black beans – 1 can
Yellow Corn – 1 can
Ortega Beans, refried, fat free – 1 can
Old El Paso Enchilada Sauce, Medium – 2 cup
Herdez Salsa Verde, Mexicana Picante – 16 oz
Sour cream – to top
Cilantro – to top
Instructions
Top 3 chicken breast with the jar of Verde sauce in the crock-pot and cook on low for 6 hrs.
Preheat oven to 425°F. Coat 13-by-9-inch baking dish with nonstick spray.
Shred the chicken with 2 forks and set aside. Pour 1/2 c of the enchilada sauce into the bottom of the baking dish (or enough to cover), place a layer of the tortillas in the bottom of the dish, and top with a layer of refried beans, black beans, corn, chicken, cheese and drizzle a few Tbs of the enchilada sauce. Do a second layer of the above ingredients.
Finish with a layer of tortillas, and 1/2 c of enchilada sauce to the top with a little more cheese… Bake until golden and bubbling, 15 to 20 minutes.
Serving size: 1/12 of casserole and 1 tbsp sour cream
Notes
Garnish with cilantro, and sour cream if desired.